St James, NY Divorce Lawyer
Thinking about getting a divorce? Choose a reliable divorce attorney serving St. James, New York.
Whether you go the route of a traditional divorce (uncontested or contested) or pursue a divorce mediation (more amicable, less legally intrusive process), the divorce process is a difficult time for everyone involved. Emotions can run wild and there are serious decisions that need to be made that will impact your life long-term, especially when it comes to child custody, child support and the distribution of assets and property. You are going to be heavily invested in the process if the divorce is contested and you will need a divorce attorney by your side who understands that no two cases are the same, and no two people's needs are the same either.
Badanes Law Office Legal Services
The Badanes Law Office offers a full lineup of divorce legal services in St. James, NY which include but not limited to:
We also work on cases involving same sex couples and what are considered to be 'complex' cases
Call (631) 239-1702 or contact us online to book a divorce consultation with an experienced divorce attorney serving St. James, NY and all of Long Island
Contact Information
Badanes Law Office
Phone:
(631) 239-1702
Email:
david@dbnylaw.com
Hours:
Mon - Fri: 9:00 AM - 6:00 PM Sat - Sun: CLOSED
Office Address:
Suffolk County Office:
Badanes Law Office 842 Route 25A (Fort Salonga Road) Northport, New York 11768 631-239-1702
Nassau County Office:
Badanes Law Office 405 RXR Plaza Uniondale, NY 11556 631-239-1702
Finding The Right Local Divorce Attorney in Saint James, NY
Finding an excellent divorce lawyer in St. James who will help you navigate through the process of ending your marriage with dignity is extremely important.  Once you have made the first step of considering divorce, your next step is to find an attorney who concentrates their practice in divorce law.
When searching for a divorce attorney in St James, one of the most important questions to ask is "Who will be handling my divorce case day to day?" Some law firms have many attorneys on their staff and the one you talk to, may not be the attorney who actually handles your case. Similarly, some law firms will have multiple attorneys handle your case.  Most clients want one attorney who will handle their case and be completely familiar with their facts and circumstances.
We recommend working with a Principal attorney that has a minimum of ten years or more experience. We also recommend hiring a law firm that primarily focuses on family law and has strong knowledge of the local Courts and Judges. Equally important is a responsive, accessible attorney that makes him or herself available to you when you need them most.
At the Badanes Law Office, our Principal attorney handles each and every divorce. He will consult with you, prepare a plan, help you file for divorce (by e-filing) and be by your side for the entire process to help you get the best outcomes possible.
In fact, Long Island divorce attorney David P. Badanes Esq. has several decades experience in divorce and family law, and he will provide legal representation that is geared towards 'your' best interests.  Quoted in the NY Times, Newsday and other publications, Mr. Badanes is recognized as an authority on divorce and one who is uniquely able to provide comprehensive legal services to his clients in St. James and all throughout Suffolk County. David has helped countless clients through difficult divorces and custody cases building the firm to "award-winning" status over 18 years.
A recent Badanes Law Office Client mentioned on Google "He is very responsive. David is the type of lawyer who would always call you back or shoot you an email on the same day no matter what type of question you have. This attitude from the lawyer is very important for me as I'm going through some difficult times in my life." His clients, peers and the judiciary value him in being a knowledgeable and trustworthy advocate for his clients.
Mr. Badanes adds, "I take great pride in working personally with each and every Client.  We go a mile deep on each Case and we put a lot of care and attention into each relationship. I'm very proud of our personable approach, knowing how stressful divorce can be. We try to create an environment and process where successful outcomes will happen. And when Clients call, they are assisted promptly. We understand sense of urgency matters."
Schedule your FREE consultation today. We will work with you remotely or in person at our office.  Call (631) 239-1702 or book online here.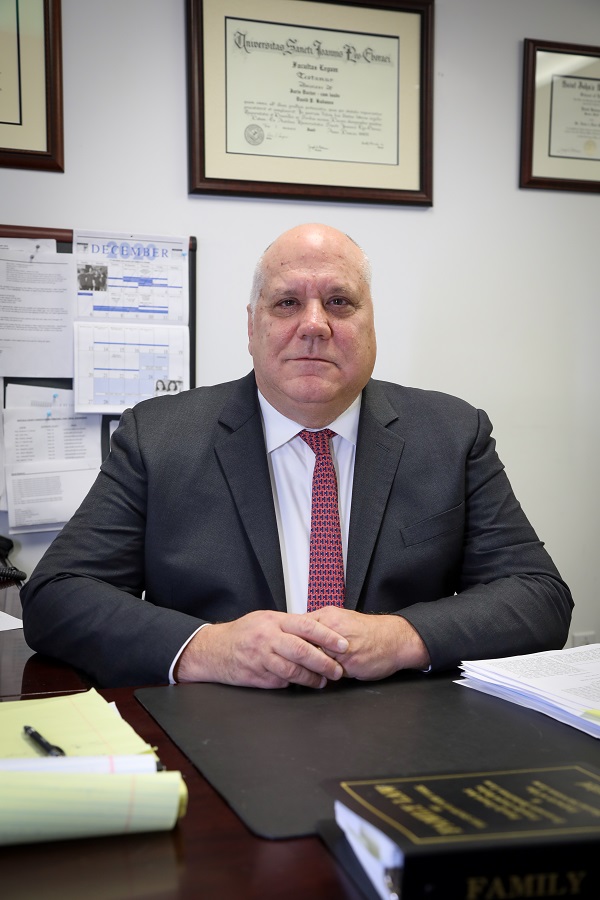 Book Your FREE Divorce Consultation
Call (631) 239-1702 or contact us to tell us about your case today.
Divorce FAQs
Has there been a rise in divorce cases in the St. James area?
We can tell you this: The rate of divorce has increased in New York, especially spurred by long term issues that reached a boiling point during lockdown, COVID and other "stressors." Many estimate that 50% or more of marriages will end in Divorce.
Will I be able to submit a name change during my divorce?
When a couple gets divorced, they can resume using their pre-marriage name.
Before filing for a divorce in New York, how long do you have to be separated?
You no longer need to be separated for any amount of time to file for a divorce.
What is an uncontested divorce?
A "true, uncontested divorce" can mean different things to different people, however, a good definition is when both parties agree on everything, from "A" to "Z" before seeing an attorney.  The parties don't necessarily need a written agreement, just an understanding of how all the different areas of their divorce will be determined.  Typically, married couples who have a true, uncontested divorce, have no children and little to no assets.
Am I required to go to court for a divorce?
It depends.  If your divorce is a "true, uncontested divorce" (see above), then it is very possible that you will never have to be inside a courthouse or see a Judge.  However, for almost every other type of divorce, then you most likely will have to see a Judge at least once.  Yet, even in some of those cases, if the attorneys and the clients can come to an agreement, without a Judge getting involved, then it might be possible to never having to go to court.  To better understand the process, you will want an experienced St. James divorce lawyer like David Badanes Esq. who understands how it works for your situation specifically.
If I live in St. James, how and where will my divorce complaint be filed?
Your divorce will be filed in Suffolk County, unless the other spouse lives and resides in a different county and files for divorce before you do.
If I live in St. James, can I still e-file for divorce?
Yes, e-filing looks like it is here to stay and most cases qualify for e-filing.
How long will my divorce finalization take?
A divorce does not happen overnight – there are many stages that lead up until court proceedings.  It's impossible to determine how long your divorce will take, until an attorney is involved in your case. Discuss your needs with your attorney to get a realistic sense of your timeline.  Your attorney can explain the factors that can speed or slow the process.
How long am I required to live in New York after filing for divorce?
You do not have to live in New York once you file for a divorce. You can move out of state if you desire. Indeed, even during the divorce process, you may be able to relocate out of New York State.
About St. James, NY
St. James, NY is a quaint little Long Island, NY town with the perfect blend of suburbia and semi-rural living. It's easy to see why St. James has been named one of "the best places" in all of New York. Non-residents often confuse St. James with Upstate New York. St. James actually is a hamlet located in Downstate New York on Long Island in Suffolk County on the North Shore.
The town is located 1 hour and 32 minutes from Manhattan, 1 hour and 18 min from Brooklyn and 57 minutes from Queens. The total population is approximately 13,671, according to the 2019 census.
St. James is known for a few tech companies. It is also known for its historical landmarks and popular locations. Here are a few nearby:
Cities Near Saint James, NY
Holtsville, NY – 00501
Central Islip, NY – 11716
Farmingville, NY – 11720
Holbrook, NY – 11741
Selden, NY – 11720
Port Jefferson Station, NY – 11733
Port Jefferson, NY – 11777
Commack, NY – 11725
Directions to David's office from St. James to 842 Fort Salonga Rd, Northport, NY
Via NY-25A W/Fort Salonga Rd
Take Route 25A west into Northport.
At the intersection of Vernon Valley Road and Route 25A make a left turn
Onto Vernon Valley Road (there is a Vespa Restaurant on your right and a Dunkin Donuts on Vernon Valley Road).
Make a quick left turn into the Badanes Law parking lot.
Contact The Badanes Law Office
If you are looking for a good divorce lawyer in St. James, use the form on this page to connect with a divorce attorney today! St. James is a short ride to our office and will be convenient to you for in-person meetings. Call (631) 239-1702 or contact us online to schedule your FREE divorce consultation.