Child Support Lawyer for Suffolk & Nassau Counties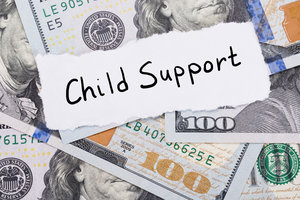 Child support is paid by the non-custodial parent to the custodial parent. The non-custodial parent will pay a percentage of their gross income (minus some limited deductions) to the custodial parent in child support payments. From your gross income, you can deduct: (i) any New York City and Yonkers local taxes withheld; (ii) the FICA (Social Security, Medicare) taxes you pay; (iii) any maintenance (alimony) paid to a prior spouse; and (iv) any child support paid for children from a prior relationship.
The Badanes Law Office Will Calculate Your New York Child Support Payments
Our Long Island child support attorney, David P. Badanes, Esq., will assist you in calculating your child support payment amounts. Once your deductions are taken from your gross income you will get your "Child Support Net Income", this is probably more than your actual net income (take-home pay). Once your "Child Support Net Income" is computed, the amount of money you pay (or receive) depends on how many children you are supporting.
The Child Support Standards Act (CSSA) states the guidelines of how much you will pay in child support. The percentages are:
1 child: 17%
2 children: 25%
3 children: 29%
4 children: 31%
5 or more children: at least 35%
If you settle your divorce, you and your spouse can agree to more or less then the child support CSSA standards. There could be several factors that could influence whether you can negotiate more or less child support payments. The Badanes Law Office will help you identify these factors.
.
When Your Income Changes, Call The Badanes Law Office Child Support Attorneys For Help
What happens if after your divorce (or after you are awarded child support), you lose your job or your ex now makes more money than he or she used to? If you lost your job and you are paying child support, you may be eligible for a reduction in your child support obligation. If you are receiving child support, you may be eligible to receive more child support payments.
To change the amount of child support (you are paying or receiving), you must show the Court that there has been a change of circumstances (or in some instances a significant change of circumstances) since your divorce. The Badanes Law Office has the experience and knowledge to help you gather the facts and present your case to the Court.
Contact a Child Support Lawyer in Long Island, New York Today
If you need a Long Island child support lawyer to help you in your divorce or in your child support issue, contact the Badanes Law Office today at: (631) 239-1702.
Our main law office is located in Northport (Suffolk County) and our Nassau County office is located at 1225 Franklin Avenue, Suite 325, Garden City, N.Y. 11530.
Service Areas:
Our child support attorney serves clients in Northport, East Northport, Huntington, Centerport, Greenlawn, Commack, Dix Hills, Elwood, Fort Salonga, Kings Park, Melville, South Huntington, Huntington Station, Nesconset, Nissequogue, Smithtown, Babylon, Islip, Bay Shore, Centereach, Cold Spring Harbor, Deer Park, Dix Hills, Farmingville, Hauppauge, Holbrook, Holtsville, Islandia, Port Jefferson, Riverhead, Ronkonkoma, Sayville, Stony Brook, Selden, Southold, Cutchogue, Bellmore, Bethpage, East Meadow, Farmingdale, Garden City, Hicksville, Levittown, Massapequa, Mineola, New Hyde Park, Old Westbury, Oyster Bay, Plainview, Seaford, Syosset, Wantagh, Westbury, Woodbury, Suffolk County, Nassau County, or anywhere on Long Island.
Testimonials
"Mr. Badanes was an excellent advocate in my child support case. He provided clear guidance and diligently represented my interests. He successfully resolved my custody dispute and was able to eliminate my child support obligation. I would recommend him without hesitation!", D.N., Central Islip, NY
Related Articles