Hire An Experienced Attorney Concentrating In Divorce & Family Law.
Divorce is a difficult time, and you will face many important decisions. You need a Long Island divorce attorney who understands that each divorce is different. At the Badanes Law Office, your needs come first. You will work directly with the Principal attorney, receiving prompt, reliable, and attentive care to all matters of your case.  If you are contemplating divorce, watch our video below or contact us today at (631) 239-1702.
| | | | |
| --- | --- | --- | --- |
| EXPERIENCED | ATTENTIVE | AGGRESSIVE | |
Why More Clients Prefer The Badanes Law Office
A Divorce Law Firm About 'You.' Divorce, Your Way.  The motto of the Badanes Law Office is "The Law Firm With a Difference." If you are facing a divorce or a difficult family situation, you will find many positive differences between our law firm and other firms, when looking for the best divorce lawyer on Long Island. Differences that will help you obtain the best possible outcome in your divorce, separation, post-divorce issues, child support, child custody, orders of protection and all issues related to matrimonial law and family law. We recognize how unique every case  can be, and we take the time to understand your unique needs.
You Should Know Who Is Working On Your Case. At The Badanes Law Office, Work With The Principal: We are not the largest divorce law firm, but we are the most effective because you will always work with our Principal Attorney, who has been described as: Intelligent. Ethical. Reliable. Trustworthy. Prepared. Zealous. Attentive. Available. And, Detailed Oriented.
Individualized Attention, From Beginning To End. We Are Prompt and We Stay Accessible: We have the experience, track record of success and passion for excellence in representing all of our clients. We provide excellent legal representation with reasonable hourly rates. Yet, you get a law firm with vast experience in matrimonial law and with proven results. Clients are surprised how accessible we remain to you at all times and our policy of a quick response time for all of your needs.
Call (631) 239-1702 or contact us to tell us about your case today.
A Distinguished, Award-Winning Divorce Attorney – Voted "Top Attorney" by AVVO
Voted "Top Attorney" in the Divorce Category at AVVO, we take great pride in our reputation.
If you no longer want to be married and you are facing divorce, legal separation, or annulment, hiring a divorce lawyer near you can help you traverse the often complex legal process properly and efficiently with as little stress as possible. An experienced attorney can help you handle the division of marital assets, file necessary paperwork and deal with the court, if there is a trial, to name a few. Whether your are going to have a contested or uncontested divorce, receiving helpful and specific legal advice for your particular needs is essential to obtaining the best possible outcome. An effective matrimonial attorney will represent your interests, provide quality guidance both pre and post trial, and determine the best course of action at all times.
Voted "Best Family Law Attorney" for Client Satisfaction by the American Institute of Family Law Attorneys
The Badanes Law Office has handled hundreds of simple and complex Long Island divorce, custody and family law cases, getting our clients results. We are seasoned both in and out of the court to handle litigation cases, vigorously providing effective legal representation. We are also experienced in helping you mediate with your spouse out of the court system so that you can move on.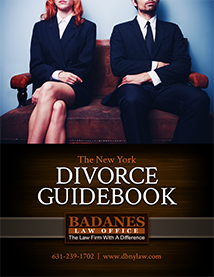 Download our New Your Divorce Guidebook Today

If you are going through a divorce in the Long Island, New York area, you should know how to navigate the key issues surrounding your divorce. This instant download is an excellent resource for you and is free of charge. Download a copy of "New York Divorce Guidebook" here.
Helpful Resources When You Are Considering Divorce:
What are my divorce options?
What 5 things should I do before divorce?
How can I make my divorce shorter?
What you need to know about divorce in Suffolk County
Should I start the divorce process or should I wait?
View divorce FAQ videos
What do I need to know about uncontested divorce and contested divorce?
"I am a resident on Long Island. What is the divorce process?" A brief overview:
1. Commencement
2. Serving the Summons and/or the complaint
3. Answering the Summons and/or complaint
4. The first court appearance
5. Discovery
6. Other court conferences
7. Trial
Read a detailed article about the divorce process here.
Contact Our Law Firm Today: Call (631) 239-1702
Several local Long Island, NY attorneys already refer their matrimonial and family law cases to me. They trust me to do the right thing for their clients, friends and family. I can do the same for you. In the Badanes Law Office, your needs comes first and we listen to your concerns and address them head-on. You want family, matrimonial and divorce lawyers on Long Island that are attentive, responsive, diligent, intelligent, and talks to you in plain English. We pride ourselves in exceeding these goals.
"David is an excellent divorce attorney. He is reliable, trustworthy and executes with speed. He successfully handled my divorce. He was able to make recommendations and suggestions and my case moved along fast with no issues. I have recommended David to others and will continue to do so."
Our Offices
At the Badanes Law Office, we recognize that each divorce is different. If you are in Suffolk County, then your case will be heard in Supreme Court in Central Islip. A spouse who is seeking an amicable divorce requires an experienced Suffolk County divorce attorney who can guide them; in other situations, a spouse requires an aggressive attorney willing and able to fight for their rights.We recognize and understand these differences and handle your divorce accordingly. We are also very familiar with the Suffolk County Court and the Suffolk County Judges. This is very important to obtaining a successful outcome.
If you prefer to work with a Nassau County divorce lawyer, we can also help you, because we have an office conveniently located Garden City, NY. The office is located on Franklin Avenue, within walking distance to the Nassau County Matrimonial Center. The Badanes Law Office provides our extensive experience in divorce, child custody, child support, spousal maintenance (alimony), prenuptial and all areas of matrimonial and family law to our Long Island clients.
SERVICE AREAS:
Our divorce and family lawyers serve clients facing divorce and family issues throughout Long Island, NY ranging  anywhere from Montauk to Great Neck and all the towns in-between. We are especially convenient to clients near Northport/East Northport, Commack, Huntington, Melville, Smithtown, Centerport, Huntington, Melville, Elwood, Dix Hills, Kings Park, Greenlawn, Smithtown, Hauppauge, Huntington Station, Saint James and Stony Brook in Suffolk County.